Pachetul include:



dēzl 570LMT


Preloaded City Navigator® NT for Europe


Lifetime maps¹ or traffic² (indicated by "LMT" after model number on the box)


Lifetime Digital traffic receiver/vehicle power cable


Vehicle suction cup mount


Screw down mount for fixed dashboard installation


USB cable


Product Documentation




¹Lifetime Maps Terms & Conditions
²Lifetime Traffic Terms & Conditions

ROAD20xx.xx - versiunea cu update contracost sau gratuit, NU se poate folosi în MapSource/Basecamp!

Nota:
>Pretul cu Ro.a.d. 20xx.xx preincarcat – upgrade-urile ulterioare se vor face contracost, prin achizitia unui abonament NextROAD (upgrade la harta curenta) sau AllROAD (upgrade gratuit pe viata)
>Pretul cu Ro.a.d. 20xx.xx cu upgrade gratuit – upgrade-urile ulterioare sunt GRATUITE pe toata durata de viata a aparatului pentru harta pe aparat.
Observatie:
Politicile mai sus exprimate sunt valabile DOAR pentru aparate care au fost importate oficial prin SC Sheba Distribution SRL. Nu se poate face upgrade la aparate cu ROAD preincarcat cu licente piratate sau upgrade gratuit in varianta cu CD Full la aparate care au fost aduse pe canale "gri" si care nu au certificatul de garantie emis de importatorul oficial, SHEBA DISTRIBUTION SRL. Daca sunteti in dubiu referitor la provenienta unui aparat, este suficient sa ne trimiteti seria acestuia sa o verificam si veti primi un raspuns in scris in maxim 2 zile lucratoare. La asemenea aparate garantia este suportata de vanzatorul acestora, NU de importatorul oficial.


Despre Produs
The New Generation of Truck Navigation


5.0-inch glass display


Free lifetime maps¹ and traffic avoidance information²


Free Garmin DIGITAL Traffic via DAB


Garmins best traffic solution - out of the box!


Custom truck routing³ for the size, weight and load


Truck & Trailer Services Directory, plus points of interest (POIs) highly-rated by truckers


Road warnings, including sharp curves, bridge heights, weight limits and more






See More, Hear Better

dēzl 570LMT-D guides with a 5.0-inch glass display that is easy to see across your cab. Extra-loud, enhanced speakers deliver clearly spoken, turn-by-turn directions that are easy-to-hear even over road noise.

Spoken Garmin Real Directions™ guide like a friend, using recognisable landmarks, buildings and traffic lights, rather than hard-to-see or nonexistent street signs.

Customised Truck Routing

dēzl 570LMT-D has detailed maps for Europe that also include truck-related restrictions – like bridge heights, sharp curves, weight limits and more – and related information for most major roads and highways. Just enter your vehicle profile information (customisable by height, weight, length, width and hazardous materials) and find truck-preferred routes suitable for the size, weight and load.

Simple Truck Profile lets you easily swap trailer sizes with the touch of a button. The onboard Trip Planner lets you create multiple-stop routes and plan and save future trips.

Easy Route Shaping lets you easily change your route to include preferred roads or cities, just by touching the screen.

Free Lifetime Traffic Avoidance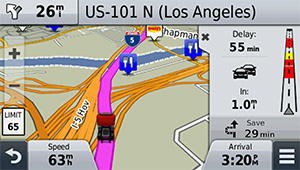 dēzl 570LMT-D features Garmin Traffic to help you spend more time on the move. With Garmin Traffic, your driving map remains onscreen at all times. Traffic alerts appear to the side of your map and messages are spoken, too. Garmin Traffic can give details about the situation, such as how many minutes of delay to expect and if there are any possible detours. It can even confirm whether or not you are on the fastest route. Lifetime traffic² entitles your dēzl 570LMT-D to receive free traffic information for its useful life, with no ads and no subscription fees. Garmin Traffic is delivered straight to your dēzl – no smartphone needed.

Bluetooth® Compatible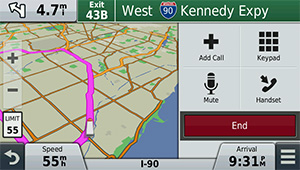 Sync a Bluetooth-enabled device4, such as your smartphone, to dēzl 570LMT-D for hands-free calling through its integrated microphone and speaker. Stow your phone in your pocket or console and still make and take calls.

Truck-specific POIs and Services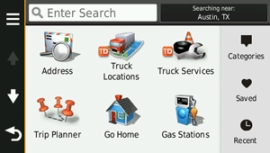 Need help finding places to go? Locate points of interest that professional drivers care about – and have given high ratings – including truck stops, weigh stations, parking, lodging, Wi-Fi® and more.

The Power of Your Voice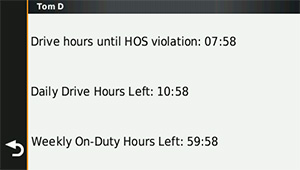 dēzl 570LMT-D is equipped with voice-activated navigation. Just talk to dēzl and it responds.

Navigate Complex Interchanges with Ease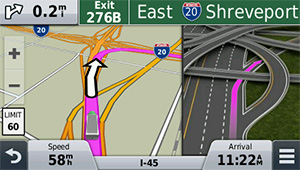 dēzl 570LMT-D has Active Lane Guidance (ALG). ALG uses voice prompts and brightly coloured arrows to indicate the proper lane needed for your route. photoReal junction view shows exits as they appear in real-life: in full colour and great detail. Bird's Eye junction view offers a detailed view of interchanges, looking down from overhead.

Smartphone Link Compatible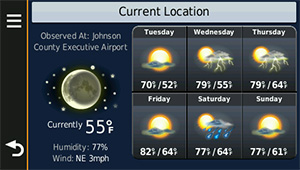 Smartphone Link is a free mobile app that connects your dēzl 570LMT-D with your iPhone® or Android™ smartphone. When paired, your dēzl can use your phone's existing data plan5 to share information.

Smartphone Link also gives you access to Garmin Live Services6, useful real-time information such as weather, traffic or safety cams. You may purchase premium content – like advanced weather radar data and images from traffic cameras – within the app.

Wireless Backup Camera Compatible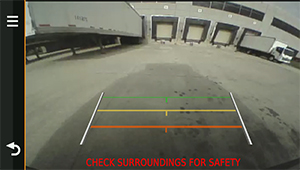 See what's behind you as you move in reverse by adding a BC™ 30 wireless backup camera (sold separately). When paired, dēzl 570LMT-D shows transmitted footage, right on its display. Wire to constant power and easily toggle between camera and navigation modes. Professional installation recommended.

Up Ahead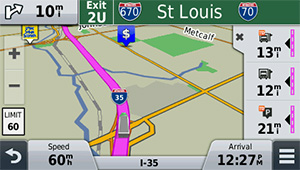 With the Up Ahead feature, you can easily find places you want without leaving the map. As you drive your route, Up Ahead constantly informs you of nearby services, including food, fuel and ATMs. Best of all, Up Ahead is customisable, so you can always know the location of favorite destinations along the way.

More Information on the Road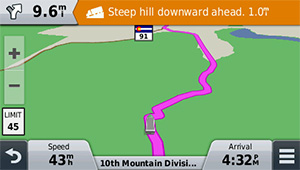 dēzl 570LMT-D keeps you informed of upcoming road conditions and restrictions, including sharp curves, bridge heights, weight limits, high wind areas, no trailer or hazardous materials. Alerts for steep grades prepare you to shift accordingly. Trucking speed limits appear if they differ from the posted automotive speed limit. dēzl 570LMT-D provides mile marker information. Its clock changes time zones automatically and provides sunrise/sunset times. Your dēzl 570LMT-D also notifies you of state and country borders and estimates your arrival time.

Service History Log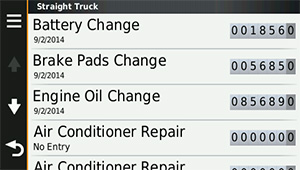 dēzl 570LMT-D has an included Service History Log so you can record the dates and type of service performed. Conveniently keep track of tire mileage, tire pressure, oil changes, tire changes and more.


Includes Lifetime Map Updates

dēzl 570LMT-D arrives loaded with detailed maps of Europe. With free lifetime¹ map updates, your routes are sure to reflect the most up-to-date maps, POIs and navigation information available. New maps are available for download for the useful life of your GPS device, with no fees.

Our POI database now includes additional search information sourced from Foursquare®. Foursquare adds millions more new and popular restaurants, shops, services and more in your area.

¹Lifetime Maps Terms & Conditions
²Lifetime Traffic Terms & Conditions
³Not available in all areas. Entering your truck's profile characteristics does not guarantee your truck's characteristics will be accounted for in all route suggestions. Always defer to all posted road signs and road conditions.
4 Requires Bluetooth®-enabled smartphone (sold separately). The Bluetooth® word mark and logos are owned by the Bluetooth SIG, Inc.
5 User's data plan charges, if any, will apply. Contact your mobile service provider for more information about your service plan's data and roaming rates.
6 Subscription may be required.

iPhone® is a trademark of Apple, Inc. Android™ is a trademark of Google Inc. Foursquare® is a registered trademark of Foursquare Labs, Inc.




Caracteristici Produs
Navigation Features


Speaks street names (e.g. "Turn right ON ELM STREET in 500 ft.")


Voice-activated navigation (operate device with spoken commands)


Traffic compatible (routes around traffic with a receiver and subscription): Yes (receiver and lifetime traffic included)


Lifetime traffic updates (receive free lifetime traffic updates)


Lane assist (guides to proper lane for navigation)


Junction view (displays junction signs)


Route avoidance (avoid highways, tolls etc.)
productSpecFeatureHandsFreeCall


Speed limit indicator (displays speed limit for most major roads in the U.S. and Europe)


View upcoming points of interest along route


Additional


Foursquare


Smartphone Link


Simple truck profile


Easy route shaping


IFTA fuel logging capability


HOS violation warnings


Exit services (such as rest areas, food, lodging)


Customizable main menu